Below are instructions on setting up a Zyxel Prestige 2000W VoIP Wifi Phone on the 2talk service. For more details on the Zyxel P-2000W phone click on the Link below:
http://us.zyxel.com/products/model.php?indexcate=1075688089&indexFlagvalue=1075687935
Step 1. First ensure thatyour Zyxel phone is updated with the latest firmware. Zyxel firmware can be download from the link below:
http://www.zyxel.com/web/support_download_list.php?indexflag=20040906164737
Simply select the correct model from the drop down menus and you will be presented with the latest firmware release for your phone to download. This will be in a ZIP file which you should unzip onto your hard drive somewhere. You can also download firmware directly from the Zyxel FTP server at:
ftp://ftp.us.zyxel.com/P-2000W/firmware
At the time of writing the latest firmware for the Zyxel P-2000W was 'WJ0013′
Step 2: If your Zyxel phone is already running the latest version of firmware thenskip to Step 3. Otherwise upgrade your phone as follows.
First you will need to ensure your phone is connected to your Wifi access point using the menu keys on the phone. Click 'Menu' and then ensure that your Wifi settings are setup correctly under option 7 (Wireless) in the menu. In the wireless menu you can select option 1 (Scan) to find and connect to your access point. If you have keys enabled on your access point or it is hidden then you will need to enter the ESSID, Network Mode, Channel, Rate and WEP key information manully using the keypad on the phone.
Once your phone is connected successfully ensure that your Network mode is set to DHCP under menu option '4′ (Net Setting), sub option '1′ (Network Mode) - so your phone can fetch it's IP address. You may need to reset the phone for this to take effect. To find out what the IP address of your phone is go to menu option '1′ (Information) and then sub menu option '2′ (IP address). Take a note of this IP address and then enter it into your web browser. You should connect then to the Zyxel web interface.
NOTE: The Zyxel upgrade procedure will NOT work in Mozilla/Firefox browsers. You must use Internet Explorer to perform the upgrade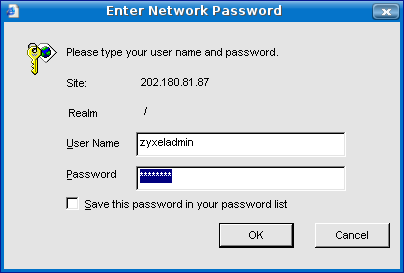 The default login to access your phone settings is:
Username: zyxeladmin
password: 1234
You should then be presented witha front pagesimilar to the following: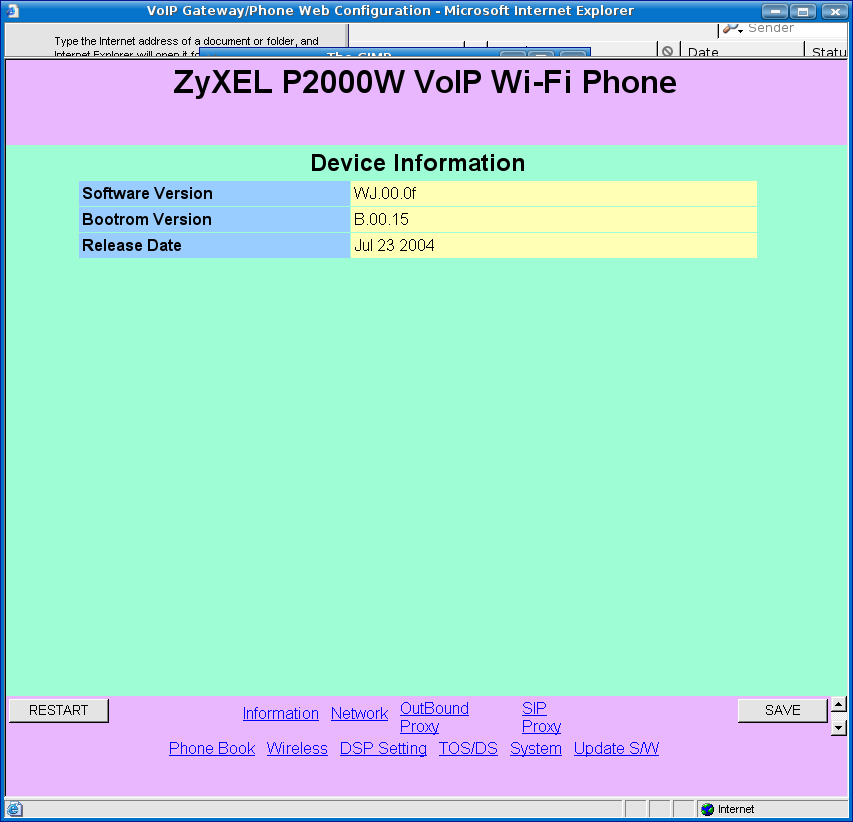 The above is an example of a phone on Firmware version B.00.15. Not we need to update the firmware by clicking on the 'Update S/W' link.
Set 'Ignore S/W identity function' to Yes.
Now browse to the folder in which you unzipped the firmware you downloaded earlier, selecting the file with '.ftp'as the prefix (e.g. wj0013_img.ftp). Once selected click 'UPDATE'. Your phone should now show you that it is upgrading. Do NOT interfere or move the phone during the upgrade process and leave the phone in it's cradle so it has mains power and will not run out of battery. If your phone loses power during the upgrade then it may break your phone completely. Wait until the web interface tells you the upgrade is complete or your phonehas fully reset itself and presents the 'Menu' options etc. again.
Step 3: Now your phone is on the latest firmware login to the phone's web interface again (See Step 2 above for details on how to setup your Wireless settings and Network Settings mode for DHCP. Again login to your phone using the default login: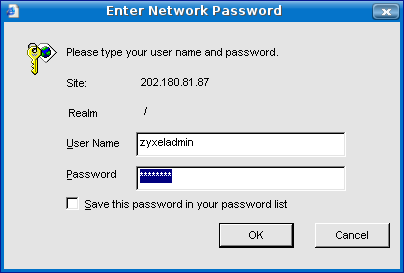 The default login to access your phone settings is:
Username: zyxeladmin
password: 1234
Step 4: Click on the 'Network' link and ensure that your phone is setup as:
Network Mode: DHCP
DNS Type: Auto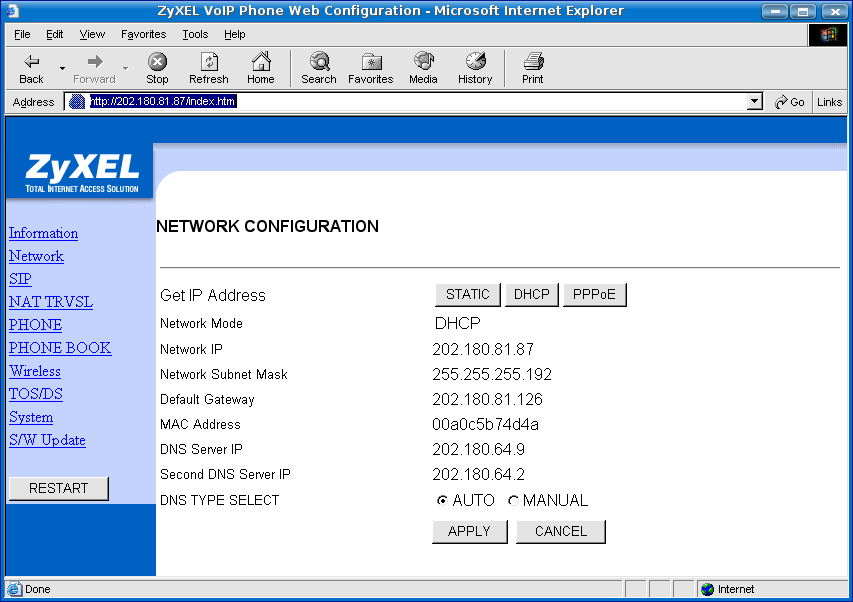 Step 5: Next click on the 'SIP' menu link. You need to enter your own 2talk number below instead of 028890000 which is given as an example only. For example, if you phone number is 099749007 then replace the 02889000 with your number (Do not specify your phone number in E164 format - use the normal Area code+number format for New Zealand). Replace 'Your Name' with your actual Full Name and 'password' with your 2talk password for that number:
SIP URI: 028890000
SIP Server Port: 5060
Registrar Server Address: sip.2talk.co.nz
Registrar Server Port: 5060
Register Expiry Time (sec.): 300
NAT Keep Alive: 0
Session Expiry Time (sec.): 0
Display Name: Your Name
Registrar Username: 028890000
Registrar Password: password
When finished click 'APPLY'.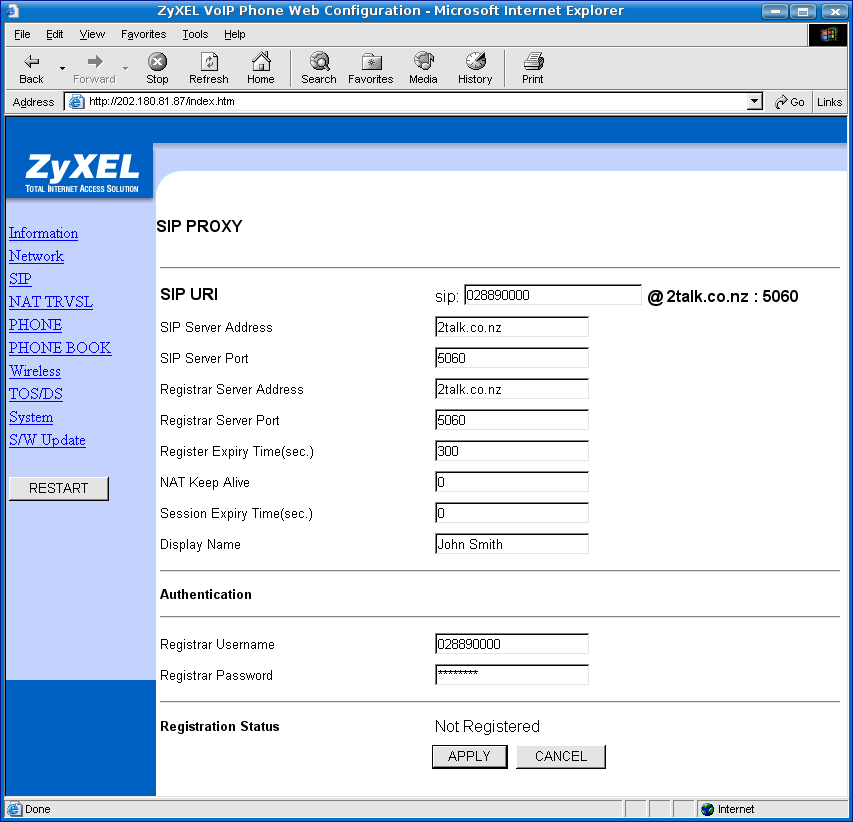 Step 6: Next click on the 'NAT TRVSL' menu link and enter the following information:
Select Type: STUN (RFC 3489)
Outbound Proxy Server Address: sip.2talk.co.nz
STUN Server IP: stun.2talk.co.nz
You can leave the other settings as the defaults.
Click 'APPLY' when you have finished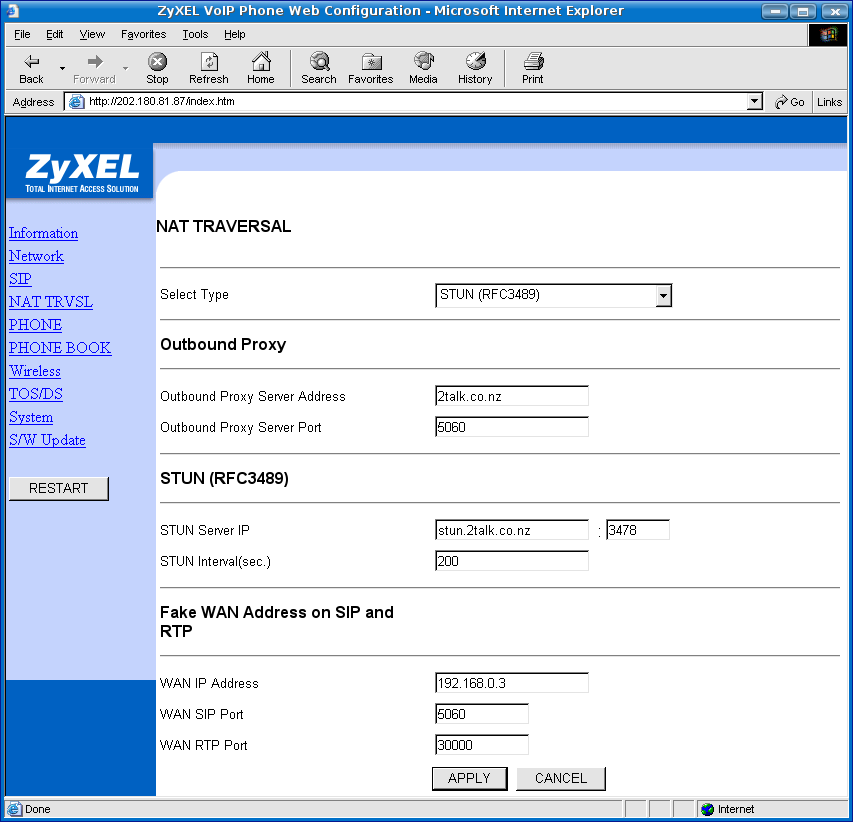 Step 7: Next click on the 'PHONE' menu link and enter the following:
Default Voice Codec: G729, 8k
Speaking Volume: 5
Listening Volume: 0
DTMF Relay: RFC2833
DTMF Payload: 101
Again, you can leave the other settings as the defaults.
Click on 'APPLY' to finish.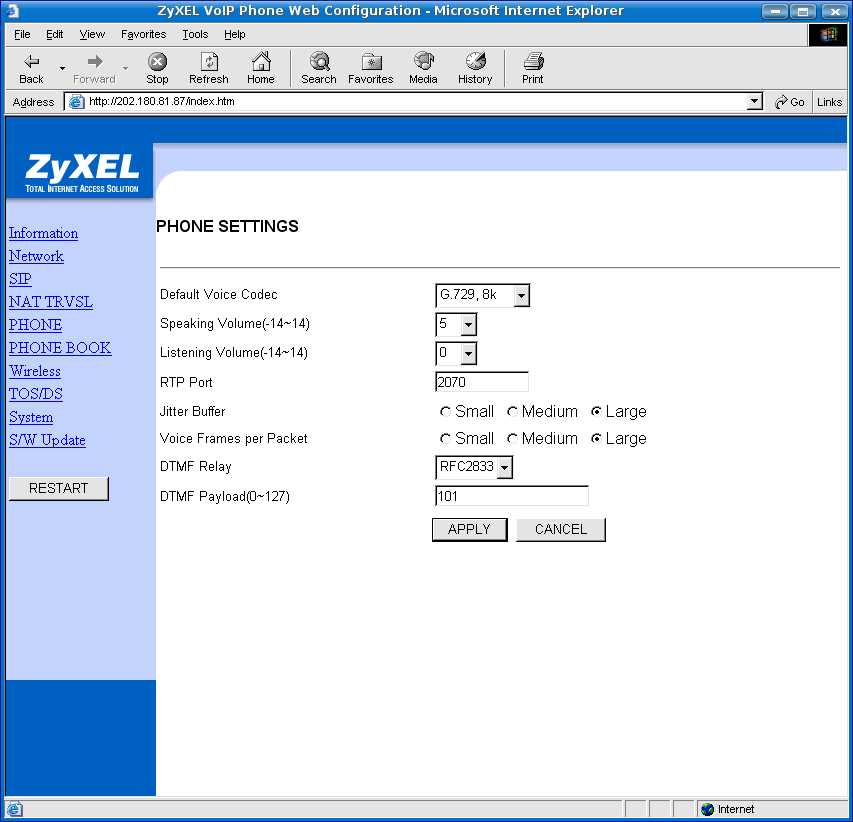 Step 8: Click on the 'Wireless'menu link and ensure that your SSID is the one you wish to use (YourWifi being your own Wireless SSIS). You should also set the Rate to AUTO and if your Wireless is publically accessible then set WEP to 'None'. Otherwise, you will need to setup your WEP keys to match those required by your Wireless network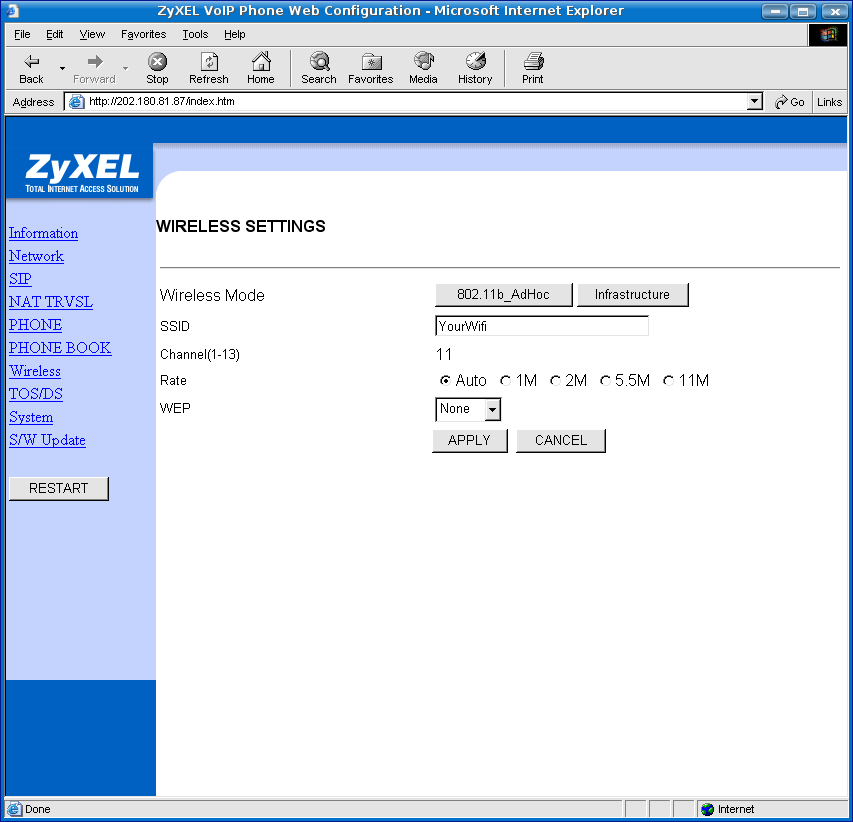 Step 9: Next, click on the 'System' menu link and enter your own 'Login' and 'Admin Login' usernames and passwords. Otherwise by default others may be able to connect to your Zyxel phone and make changes using the default password of '1234′.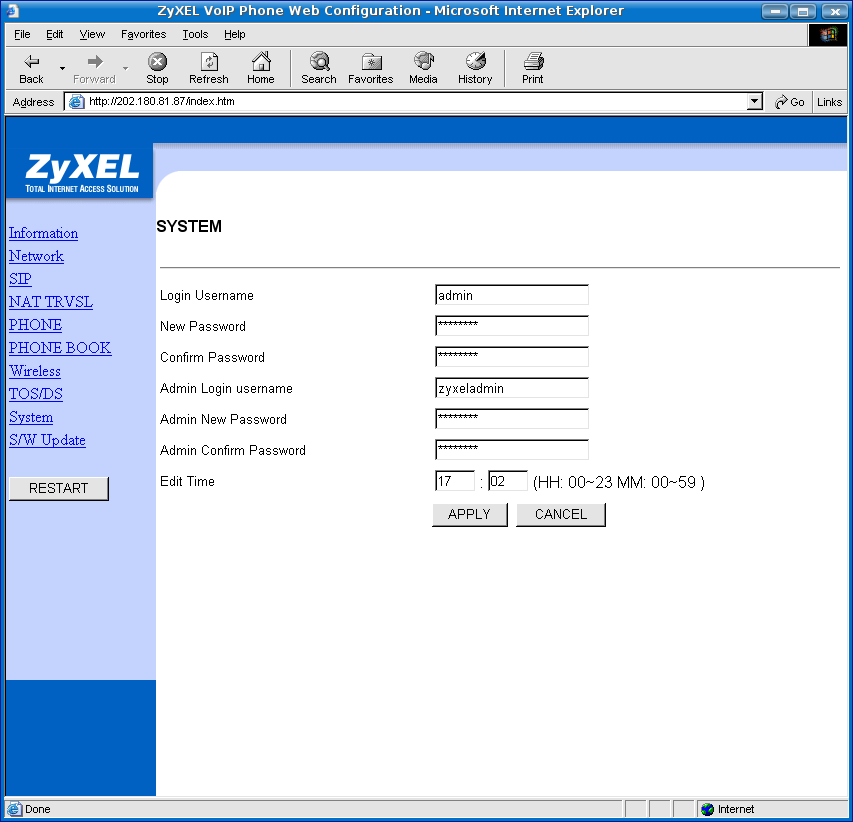 Step 10: Now your phone is configured for the 2talk service. One last thing you will need to do is login to the 2talk Live web site at:
Click on the 2talk Settings menu and select 'Voice Quality Options'. Now, tick the box that says:
Do you wish to disable video calling on this number?
The reason you must disable video calling on the Zyxel P-2000W Wifi Phone is because the phone has a bug where Inbound calls will not work correctly if you have video enabled on your number and you will not hear any voice traffic. If you wish to change your device to a Video capable phone in the future, remember to switch Video calling back on again by unticking this box.
If you have any further queries about the Zyxel Prestige 2000W VoIP Wifi Phone then please email support@2talk.co.nz or dial 02889HELP (+64 28 894357)